Dicas para a entrevista com o empregador
Dicas para a entrevista com o empregador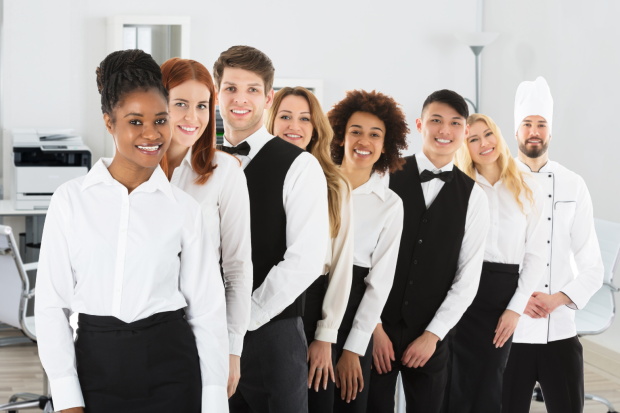 O objetivo desse post é ajudar nossos candidatos com todas as dicas para a entrevista com o empregador, incluindo uma DICA DE OURO no final desse post.
Se você está em processo com a BRC Brasil, concorrendo para uma vaga nas áreas de Gastronomia, Recepção e Governança ou Alimentos e Bebidas, leia esse post atentamente e boa sorte na sua entrevista com o empregador!
A primeira impressão é a que fica
Parece clichê, mas para aumentar as suas chances de se dar bem na entrevista, comece fazendo o mínimo esperado de um profissional sério:
Vista-se profissionalmente. Se for chef, use a dólmã; outros cargos use uma camisa e/ou blazer. Esteja arrumado, com barba e cabelo limpos e boa aparência.
Seja pontual, ou melhor antecipe-se. Americanos são extremamente pontuais e não costumam tolerar atrasos. Esteja on line e pronto para começar dez minutos antes. Se tiver o contato de Skype do entrevistador, pode mandar uma mensagem rápida se apresentando logo antes do horário. "Hello Mr. Smith, this is João here. We have a call in a few minutes, I look forward to speaking with you soon".
Esteja em um lugar silencioso, com boa conexão de internet e câmera estável. Prefira desktop a usar o celular, assim evita de entrarem ligações ou mensagens durante a entrevista.
Estude tudo que puder sobre o empregador. Leia o site da empresa, reportagens, Instagram, Facebook, e até mesmo o cardápio caso seja um restaurante.
Objetivos da entrevista
Tenha em mente quais objetivos você tem com essa entrevista. Quais as informações mais relevantes sobre você que deseja passar?
Objetivo 1 – Paixão pelo que faz
Geralmente, empregadores procuram pessoas apaixonadas pelo que fazem, em busca de reduzirem as chances de contratar alguém que vai se cansar ou desistir facilmente, reclamar de tudo e por aí vai. Sendo assim, o seu principal objetivo na entrevista com o empregador deve ser demonstrar que você ama o que faz, e que seu maior prazer é exercer a sua profissão.
O que dizer: "I have always loved cooking! To be able to do that as a profession is a privilege. I am happy in the kitchen'" | " I have a true passion for serving people. Hospitality is in my blood, I love the interaction with customers and my goal is to make their stay memorable"
Objetivo 2 – Você é seu único vendedor – VENDA-SE
Apesar você provavelmente não ter nenhuma experiência em vendas, durante essa entrevista, você será seu maior vendedor. A única pessoa capaz de falar bem de você mesmo e pegar essa vaga de emprego. Mas o que exatamente nós queremos dizer com isso? Bem, o empregador não conhece a fundo suas experiências, e não sabe o que você tem a oferecer à sua equipe. Portanto, o que você vai falar nessa entrevista tem o poder de convencê-lo de que você é a pessoa certa para essa vaga.
Analise suas experiências profissionais e de vida até aqui e identifique quais pontos principais você tem a destacar, que podem ser benéficos para aquela vaga. Use-os sem medo. Por exemplo:
Um profissional de Gastronomia que trabalhou informalmente como cozinheiro de Eventos no Brasil, concorrendo para uma vaga em um Resort Luxuoso com vários espaços para convenções nos EUA. Podemos deduzir que esse hotel, além de restaurantes variados, tem muitos Eventos acontecendo.
O que o profissional com experiência free lancer de Eventos tem a agregar para esse Resort? Rapidez, Flexibilidade e capacidade de adaptação, pensamento rápido e acostumado a lidar com imprevistos são alguns exemplos. O que dizer: " I was checking your website, and I was impressed with your huge Banquets area. You must be very busy with all sorts of Events. At my last job I worked as a cook at a variety of different Events, from weddings for 50 people to big corporate Events for 500 people. I learned to think fast and improvise when things don't go as expected. For example, change a sauce, substitute ingredients or create something that was not on the menu to replace an item. I am know how these Events can be unpredictable and stressful, and I am very comfortable working under pressure."
Um profissional de Hotelaria, recepcionista de um Hotel de médio porte em São Paulo, concorrendo a uma vaga em um Hotel de mil quartos, em Orlando nos EUA. Esse profissional, que trabalha em São Paulo, está acostumado a receber hóspedes que trabalham em companhias aéreas. Em Orlando, pode-se deduzir que um número maior de hóspedes viaja a lazer e que o hotel tem muito movimento.
O que o profissional com experiência no Hotel de Business em São Paulo tem a agregar ao Hotel de Orlando? Nesse caso, o fato de ter vasto conhecimento com check-ins de hóspedes que trabalham cias aéreas tornou esse profissional bastante flexível e empático. Ele sabe que, muitas vezes o hóspede chega em horários alternados, cansado e precisando dormir. O hóspede não tem paciência para esperar mais duas horas até que o quarto esteja pronto. Sendo assim, o profissional de hotelaria desenvolveu a característica de se antecipar às necessidades de seus hóspedes e de se relacionar com outros departamentos do hotel visando o bem estar dos hóspedes.
O que dizer: "At my current job in São Paulo, we receive many guests that work for airline companies. These guests often have very special needs – they arrive at different times and many times tired and in a hurry to go up to their room and rest. When on a big airline check-in day, I anticipate that we will need some rooms ready before standard check-in time. I then coordinate with the Housekeeping supervisor, by offering help or assist in any way in order to get more rooms done quickly. When not possible, I think of other ways to assist the guest immediately, such as an upgrade to our VIP level or access to the VIP lounge with food and drinks for a couple of hours so that they can relax for a bit. These situations has made me very empathetic to each individuals' needs. I know, for example, a family with children travelling to Orlando may be very tired after walking in the parks all day – and they need a receptionist who can be quick at identifying and attending their needs. I can do that!"
Perceba que o segredo é estudar o empregador que irá te entrevistar antecipadamente, identificar quais suas possíveis características e relacionar pontos do seu dia-a-dia como profissional que chamarão a atenção daquele empregador.
Falando sobre você
É muito comum que na entrevista com o empregador americano, te perguntarem características da sua personalidade. Por exemplo: "how would your friends describe you?" OU "Talk about your strengths and weaknesses".
Como você responderia a essas perguntas? Nós brasileiros não estamos acostumados a falar sobre nossa personalidade em entrevistas. A maioria dos nossos clientes começaria com " I think I am a fast learner, hard working person." ou " I think my friends would say…" O problema da palavra "think" é que ela passa dúvida e não confiança. Experimente encher o peito de confiança e dizer " My friends would say that I AM very hard working and I AM willing to do whatever it takes to help my team grow.".
Percebe a diferença? Lembre-se que você é seu melhor vendedor. Se você não tem confiança em você mesmo, o empregador também não terá.
Está gostando das nossas dicas para entrevista com o empregador? Então vamos para a parte final, incluindo nossa DICA DE OURO.
Perguntas Finais ao empregador
Normalmente no final da entrevista o empregador pergunta se você tem alguma dúvida. Aproveite essa oportunidade para dar o "toque final" à sua entrevista e reforçar o quanto você se importa com aquele emprego e o quanto você se preparou para esse momento.
ESSA É NOSSA DICA DE OURO: Foque em trazer soluções e agregar valor para a empresa que está contemplando te contratar.
Mas como fazer isso?
Fuja das perguntas básicas como "como funciona a escala de folgas?", "o que tem para fazer nessa cidade à noite?" e "quanto paga a hora extra?". Ao invés disso, mostre que você tem real interesse em fazer a diferença naquele time. Tente as seguintes perguntas:
What is your biggest challenge leading your team and how can I help? – aqui você mostra interesse em fazer a diferença.
I was checking your website and I was really impressed with your menu. That lobster ravioli seems amazing! Where do you source your seafood from? – aqui você mostra que buscou saber detalhes sobre o empregador, estudou, e de quebra se diz impressionado em como eles são bons! Quem não gosta de ouvir um elogio, não é mesmo?
What are the two most important expectations you have from a J1 working at your hotel? – de novo, mostrando interesse em fazer a diferença.
Use e abuse de palavras de impacto como: " It would be an HONOR to work for such a great company. OU Should you hire me, I will do my very best!
O time da BRC Brasil deseja toda sorte do mundo na sua entrevista! Estaremos torcendo por você e te guiando passo a passo. Normalmente o resultado da entrevista sai em 1-3 dias, podendo variar de empregador para empregador.
Para acompanhar outras novidades, depoimentos e vagas, siga nossas mídias sociais abaixo:
Instagram: https://www.instagram.com/trabalharnoseuaoficial/